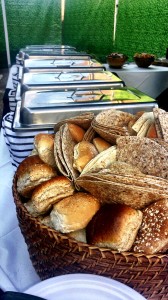 Hello and welcome from everyone here at Hog Roast Stratford-upon-Avon. We thoroughly hope you enjoy learning more about what we do here in our hugely popular historic market town. After all, if you're planning an event or celebration in this high point of UK national heritage, we want you to know everything you need to know about how a succulent and aromatic hog roast could become the crowd-pleasing centrepiece to your plans.
Stratford-upon-Avon – More About Our Hog Roast Story
Hog Roast Stratford-upon-Avon is proud to call itself the premier provider of delicious hog roast catering across the entire county of Warwickshire. But why Stratford? Why have we dropped anchor in amongst some ageing wooden architecture on a river bank that was only useful in ancient times because its shores were sufficiently low to provide a natural river crossing. Well the answer is the demand. The demand for hog roasts has grown dramatically over the years and each year we have grown as a business. Bringing in more highly qualified chefs and teams of professional waiting staff to be ready for your call.
We are open 7 days a week, 365 days a year – we have the ability to cater for hundreds of events each year. That's quite something, and we've had a lot of mouths to feed. We stand ready to entertain with a range of appetising hog roast menus.
Hog Roast in Stratford-upon-Avon – Ask Us Anything
Perhaps you're planning your visit to see Stratford's famous Historic Spine (a 0.6 mile route through town that begins at Shakespeare's birthplace and continues past 15th century timber framed listed buildings, including the Shakespeare Hotel, the site and gardens of the Bard's home, and the homes of his daughters Judith and Susanna). Or perhaps you're coming to take part in our yearly beer and cider festival. Or you could be coming to one of the 18 annual meetings at Stratford Racecourse. Whatever your reason for coming to Stratford, hog roast catering is sure to be the perfect meal time retreat to accompany your sightseeing plans.
Menu Options … Whether it's for business or pleasure, your planned visit is important to us – we're proud of our historic town and we'd love to show you a great time! Read through our menu section, including selected menus for private parties, wedding parties, and corporate events (our Christmas menu is also now available, make sure to book early to secure your preferred date!). If you don't see something on the menu that you'd like to add, speak to us today. We specialise in going the extra mile to make sure you receive the ultimate Hog Roast Stratford-upon-Avon catering experience.