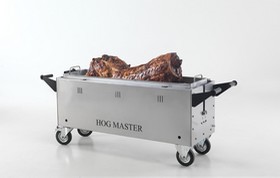 Hiring a hog roast machine could not be easier. Simply give us a call and we will deliver the machine with a bottle of gas ready to go, direct to your venue. The hog roast machine can be delivered with or without a fully prepared pig the choice is yours, take advantage of our carefully selected free range pigs or arrange your own pig locally. We will then collect the machine after the event either clean or dirty again the choice is yours, there is an extra cost for sending the machine back dirty. If you have several events planned over a longer period of time again no problem we can arrange for a hog roast machine hire for as long as you require it.
Can I chef the event? … The simple answer is yes. Our hog roast and spit roast machines are very easy to use and we offer on site tutorials, so even a complete beginner can cook the perfect pig! You will be provided with a machine, gas canister and a pig (if needed) all you need to do is make sure you machine is set to the right temperature and sit back and watch the crackling crisp! So next time you feel like impressing your friends and family and playing master chef why not try hiring one of our tried and tested top of the range hog roast machines for the weekend.

Hog Roast Machines
Classic Hog Roast Machine
Our classic hog roast machines form the backbone of what we do. Each gleaming stainless steel machine is maintained to the highest standard, with 'hog roast glass' machine options available (the glass oval window allows onlookers to watch the succulent hog roast as it slowly cooks to perfection). Capable of handling up to 40 kg of meat, these eye catching machines can provide you with up to 150 servings per roast.
Titan Hog Roast Machine
When the crowds want more, we rise to the challenge. Over the years, we have been listening to our customers who have expressed a desire for a larger machine capable of handling 300 servings per roast. Introducing, the Titan. This double oven machine offers you control over double the amount of delicious hog roast meat (up to 80kg), meaning one chef at one machine can serve twice as many people.
Hog Roast Machine Accessories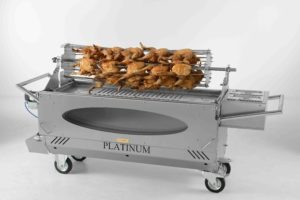 BBQ
This handy and easy to use attachment fits on top of the hog roast machine. Serve burgers, sausages, hot dogs, caramelised onions and more. The BBQ accessory is the perfect way to keep the crowds happy between hog roast main meals.
Chicken/Beef/Seafood Spit
We'll help you to add a spectacular visual component to your hog roast catering setup with our simple to use Spit accessory. Designed to handle up to 36 large chickens, this super useful accessory can also be used for beef, pork legs, and seafood.